Zen Cafe – Amdavad Ni Gufa
is among Top 3 most happening ones in Ahmedabad –
The MOST happening crowd, the Awesomest open-air ambience to give you a feeling of Italy / Venice, the unusual-unorganized sitting-arrangement, the green and soothing surrounding, your best friends, Gossips and a mug of Cappuccino.
Ahmedabad is the city of tea stalls and laris (carts). But this laidback city is moulting. And the young are claiming it. Zen Café is just one of their temples.
The Zen Café, that operates out of a
watchman's-cabin-like structure
at the entrance.
What to eat and Drink at Zen Cafe?
Their bests are
coffees, teas, mock tails, pizzas, Panini's, sandwich, quesadillas and walnut brownies, cakes apart from the regular Cappuccino/Latte.
TIMINGS:
It is open all week, except Mondays, between 4pm and 9pm.
ADDRESS:
Zen Cafe,
Campus of The Center for Environment Planning and Technology,
University Area,
Navrangpura, Ahmedabad.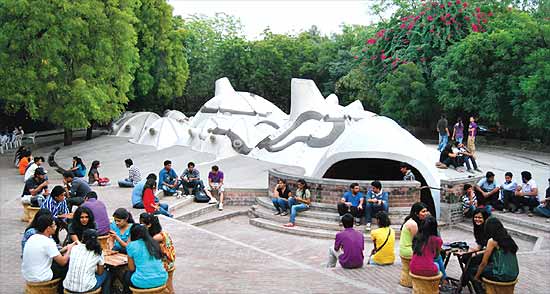 If you have not been to Zen Cafe, YOU ARE NOT YOUNG ANYMORE.